This time last year I was running around like a crazy person getting ready for my wedding~haha! To commemorate my one year anniversary I thought I would do a whole series of posts on the big day! I'll start with the little details and lead up to the grand finally~ the most important outfit post I will ever do~ my wedding dress! Hope you enjoy!
(All photo credits go to my most amazing wedding photographer: Stefanie from
Lost in the Moment Photography
)
Step one of planning my wedding was choosing a location. After visiting several venues and much deliberation (I'm the most indecisive person ever), my heart finally set on Birmingham Botanical Gardens. I was a nervous wreck the entire month of September because it rained every single day leading up to the wedding, but on September 27th, this is what I got to walk down the aisle to! Gorgeousness!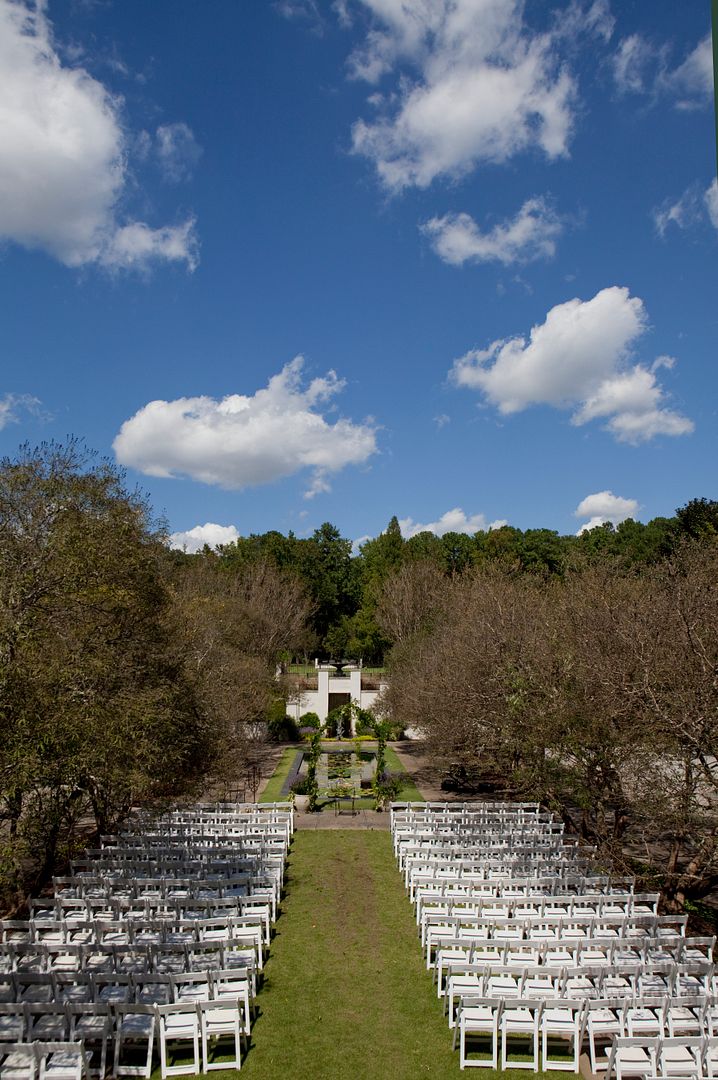 After choosing the location, my next big obstacle was coming up with a color scheme/theme. I just love black and white damask prints so I decided to incorporate them into the bouquet wraps, centerpieces, invitations, and programs. I also wanted a pop of color, so I chose a color I like to call "raspberry" which is in between red and purple. I sewed the little bouquet wraps myself and my florist pinned them on with rhinestone floral pins~! I've always loved butterflies and decided to incorporate them in the decor.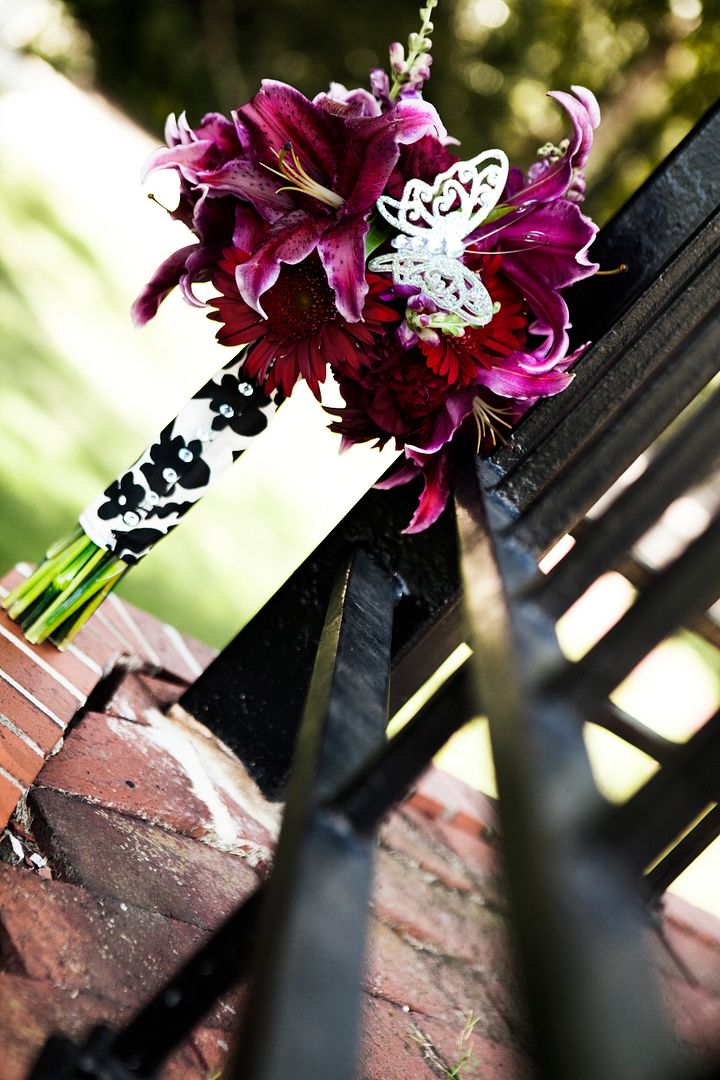 I decided to sew simple rectangular runners to jazz up the white tablecloths in the reception room. We had some leftover bathroom floor tiles that my mom and I covered in fabric for the centerpieces. I mixed and matched damask, raspberry, and silver runners and tiles around the room. We found really inexpensive candlesticks at the thrift store to give varying heights to the candles. The silver butterflies are actually Christmas ornaments we snagged at TJ Maxx.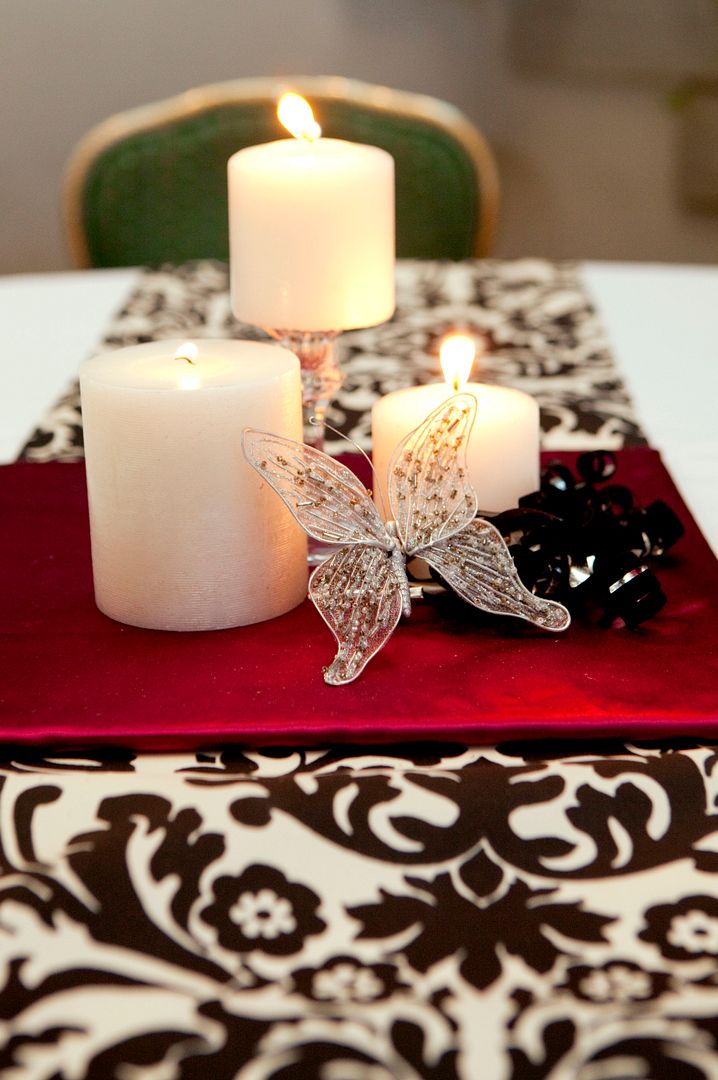 My beautiful cake tied everything together! It tasted delicious too!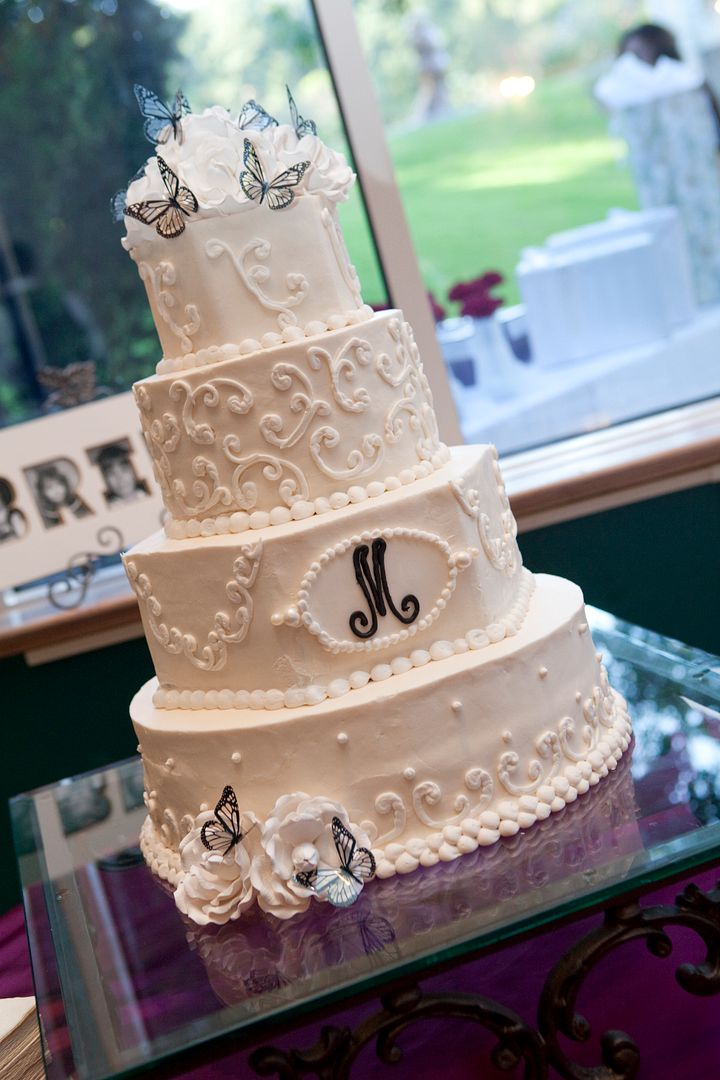 Our favors were cute little butterfly sachets we found at a Pier 1 after-Christmas sale! We displayed them on branches we had spray painted silver.
A special thanks goes out to my mom who helped me pull all the little details together! We had so much fun planning and wedding crafting every weekend leading up to the day! It was everything I imagined it would be and more~!
Tweet