If you know me well you know my idea of "roughing it" would be a night stay in a Comfort Inn. When I try to do anything "adventurous" I just usually end up getting hurt. (See exibit A:
bike ride at Santa Monica Pier
). I typically prefer vacations where I can just lay there..doing nothing..on a beach. Annnd any physical activity on a vacation better include some form of shopping. So yeah, I don't really know what I was thinking when I signed up to do this: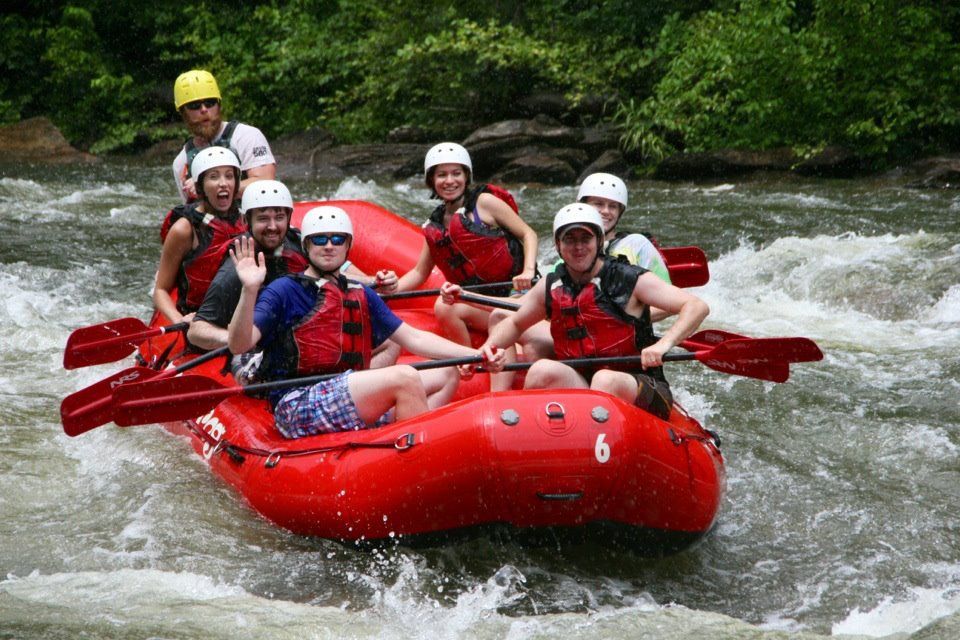 Ha! But in the end, I am soo glad I did it! I'm pretty proud of myself! I will consider it a once in a lifetime accomplishment. ;)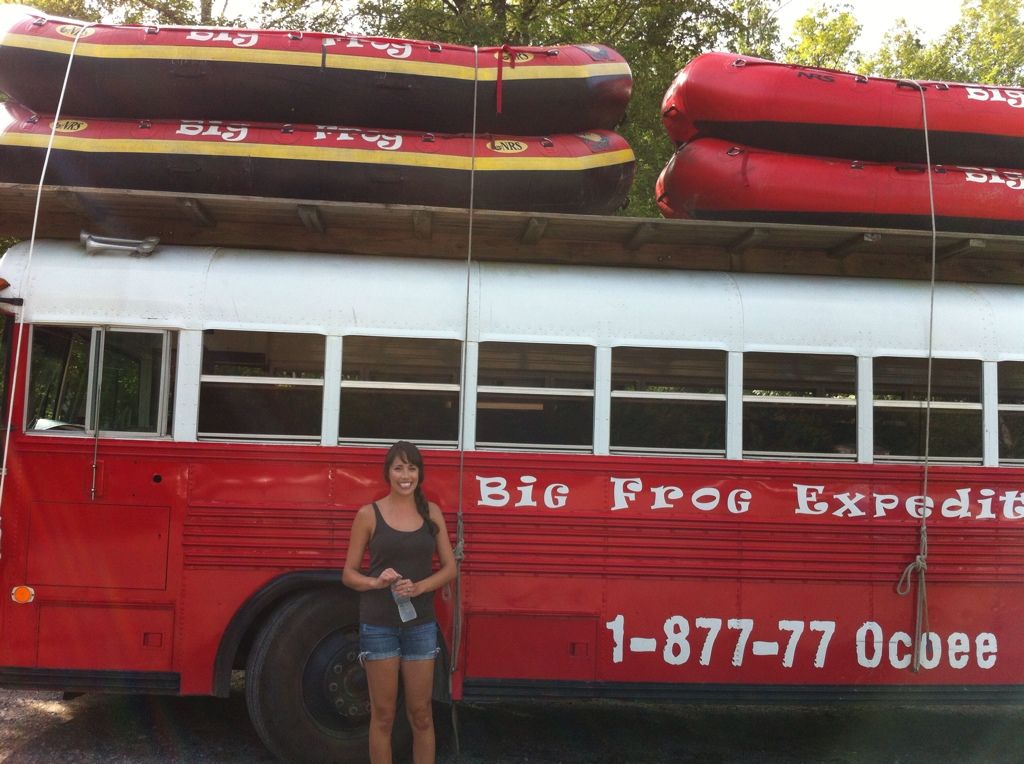 So, our adventure began bright and early on a Saturday morning. We drove 2 hours to just over the Tennessee line to the very very small town of Benton. We signed our wavers, squeezed into our life vests and helmets and then took off on the windy mountainous roads aboard this bus pictured here. You know, just a few rafts strapped to the top of an old school bus SPEEDING down the road. No big deal. How much you wanna bet there was no AC on the bus?
We got to the river and met our guide Richard, a long haired, bearded, cheesy joke teller from California. I chose to sit in the back of the raft-- the seat Richard refereed to as the Princess seat...(sounded safe?). After a few practice strokes we were ready (some of us) to push our raft into the river. Our first set of rapids was a class 4- the roughest class of rapids we would encounter. After making it through the first set without dying I became pretty confident that I could actually do this!
After that, we were doing all kinds of tricks in our raft like we were some kind of Olympic rafters.We learned how to do 360's down the rapids and even "surfed" our raft! Apparently you can do such a thing. The other 30 or so rafters looked on jealously. Yeah...we dominated that water like a boss.
Towards the end of the trip we came up on a class 2 rapid. No biggee. We got this. Suddenly, I look up and Justin, our most experienced rafter was falling out of our raft! In shock, I realized that yes, I too was somehow slowly and uncontrollably falling out. Luckily, I landed on a large flat rock leaving only one huge bruise on my right butt cheek. I may have had a minor panic attack before scooting back into the boat-- it was kind of a blur. But there was no time for screams or tears. Our task at hand was to find our friend Justin who was being swept down the rapids. We found him. He was totally fine.
After our raft adventure, as if my day could get any better, we slept here: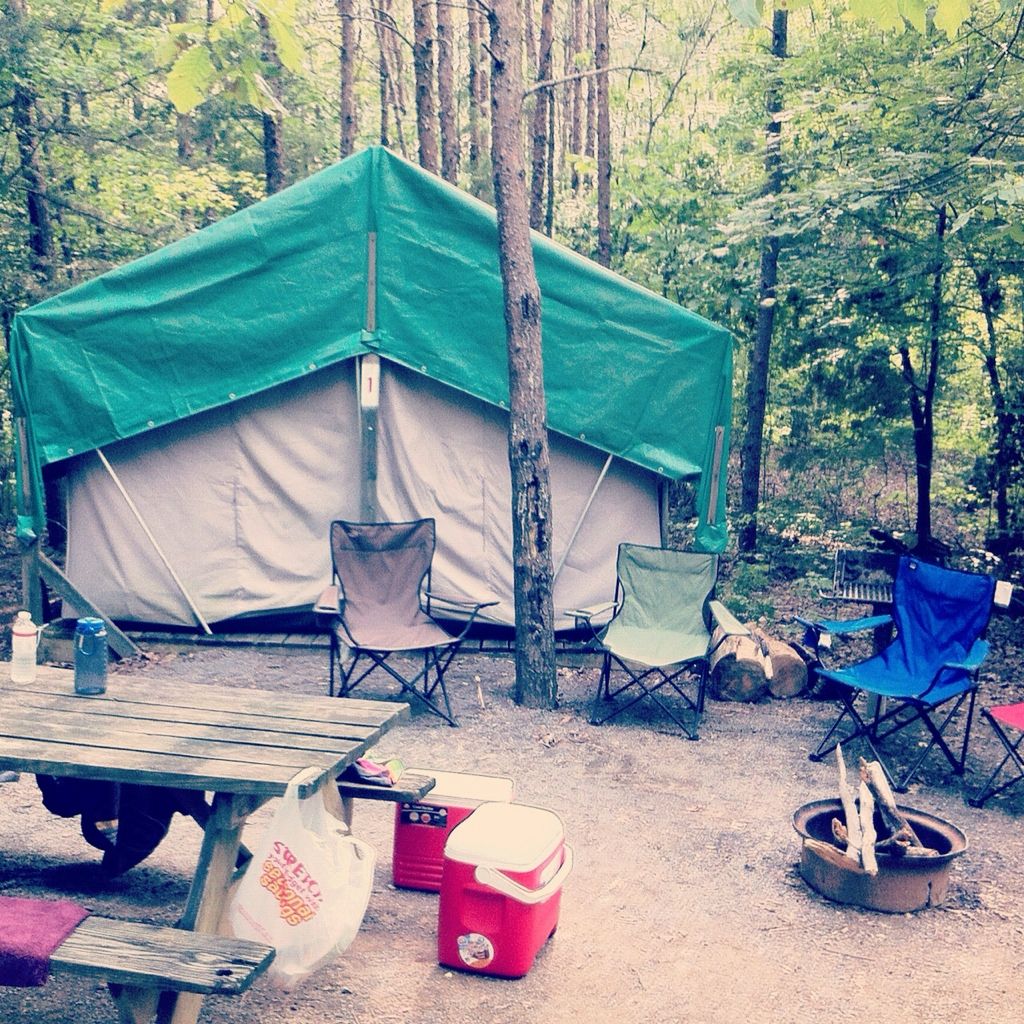 I use the term "slept" loosely. Mainly I just heard unidentified animal footsteps and sweated half my body weight into my sleeping bag.
Here is a fun video of us trying to start a fire.
Fire sucess!
In all seriousness, we really had a good time. We enjoyed getting to know our new freinds Emily, Justin, Sarah, and Doug who are in our Bible study group. I'm so thankful for these new "adventurous" friends.
Tweet