I thought it was about time you see a tour of my favorite room of the house: my sewing room! AKA: Presh Studios! ha! I spend many hours in this room slaving away at my machine, so I knew I wanted something cozy and inspiring. It's the only room in the house where Matt gave me free reign with my femenine touch, so vintage pinkish-peachy-purple was an obvious choice for wall color!
I found this cute black iron daybed at Ikea. It's great for extra bedding when we have company. And no, it's not a crib. It is a full twin size bed. ;)
The light fixture is from West Elm. I didn't even realize that it sort of resembles the shape of a dress until Matt pointed it out. ( Umm yeah, totally meant to do that.)
I made the roman shade curtains myself using
this
super easy tutorial I found on Pinterest. They are functional, cheap, and easy yall!
This lamp and table below are recent consignment store purchases. I love the lamp with just the framework and no shade! The vintage dress form was a gift from my amazing friends. They found it on Ebay!
The sewing machine table on the right was my great grandmothers! I love that I have a piece of her with me as I sew. The drawers are still filled with all her sewing supplies. Makes me so happy!
Another view of the sewing corner! The chair is from a thrift store and I painted it cream.
Above my machine I put a shelf I found at Homegoods. On top I placed some of my great grandmother's vintage thread spools. I found these neat vintage hangers at an antique store. I hung some old patterns from them. These patterns were used by my grandmother to sew dresses for my mom and aunt back in the day before department stores!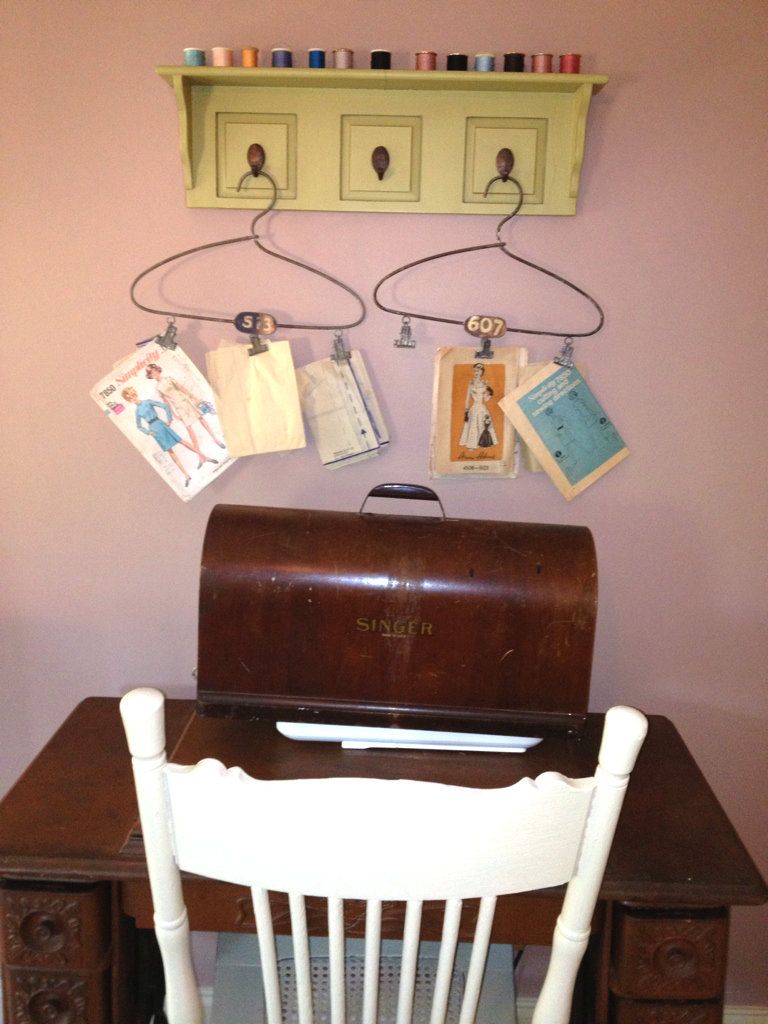 On the other side of the room, I used my great grandmother's old china cabinet to store all my fabric and sewing notions. You may notice my many Audrey Hepburn photos. She's my inspiration! Recognize any of the fabrics from my
shop
? The old Singer sewing machine is one of my prized possessions! My amazing friends yet again found it for me on Ebay!
I made this artwork by embroidering "Keep Calm and Sew On" onto burlap. I cut out the sewing machine silouette out of felt. The frame is an old one I found in my parent's basement and spray painted black.
In case you're curious, I use a Brother LB-6800 sewing and embroidery machine and I LOVE it. It's Project Runway limited Edition- ha! Not sure what that means exactly but if you are looking to buy a machine I recomend this guy.
Well thanks for touring my studios! Be sure to check out my other home tours on the "home tour" button on the right!
Tweet