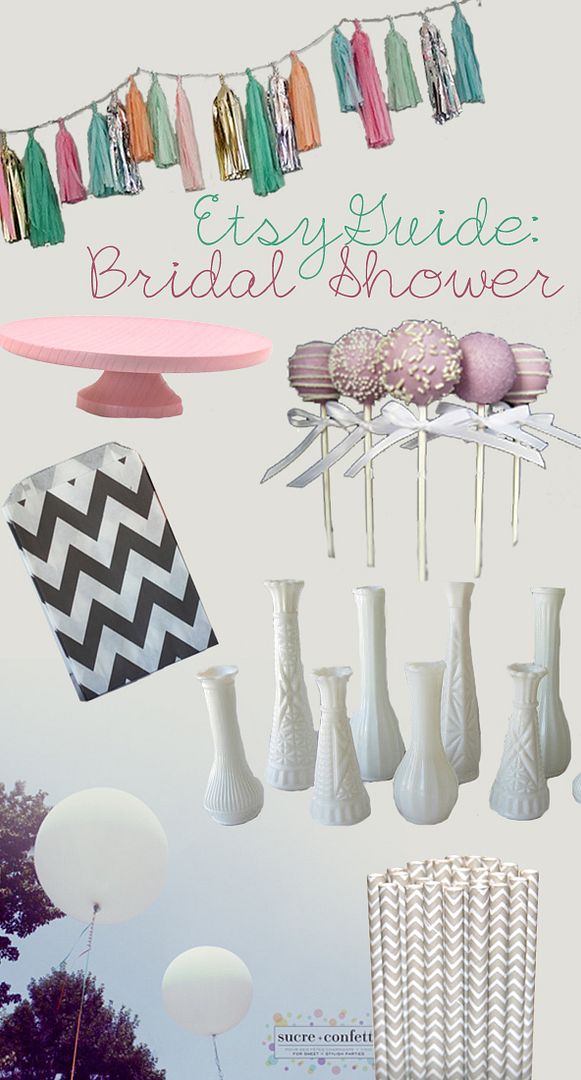 In between my business trip to NYC and my Etsy shop orders, I've also been planning a bridal shower for my lovely friend Kathy. I LOVE party planning. If I weren't a tech designer, I would definitely be doing something along these lines! I thought I would share some of the decor details with you! Don't worry, I've warned Kathy not to check my blog today! I wouldn't want to spoil the surprise! Of course I've found all of the decor on Etsy! Here are the links to these shops:
Tissue paper tassels in customizable colors by Party Creative: $1.00 per tassel. (I've already ordered these!!)
Pink wooden cake stand by Wooden Expressions: $80
Cake Pops by The Sweet Source: $22 per dozen (yes you can order food on Etsy!)
Chevron party treat bags by Talking Twine and Trim: $2.40 per dozen
Pretty Milk glass vases to hold fresh flowers by Passed By: all 10 for $42
Giant Balloons to greet guests at the door by Sucre Confetti $5.25
Fun Chevron straws do decorate our drinks by Sweets Treats Boutique: $3.75 for 25
Can't wait to show you all pics of the shower! I think it will turn out really cute!
Tweet