I'm starting a new series on the blog today called 11 picks! It's where I choose my top 11 favorite items from different stores. Pretty simple concept right?! What I like about it though, is it forces me to branch out and consider other stores besides my old favorites. For example, I had never browsed through Lacoste before now (crazy right?!), and I'm just discovering they have some really cool stuff! Lacoste recently contacted me to let me know of there store opening event at Lenox Mall here in Atlanta tomorrow night! If you're in town you should stop by!! It sounds like it will be a fun little party! I'm most excited about watching the live graffiti shoe artist at work!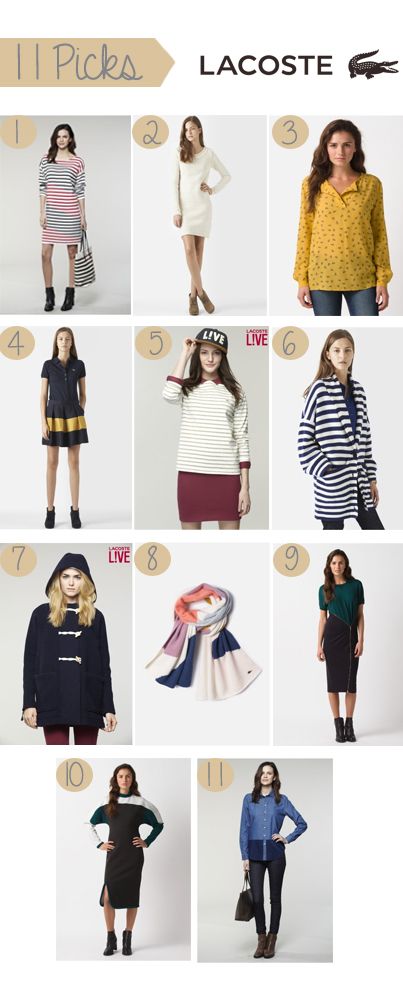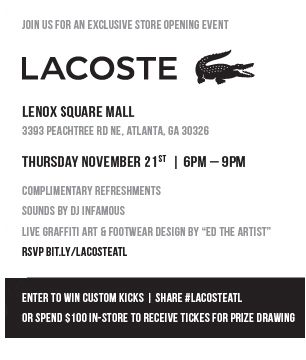 2. Cream sweater dress
3. Yellow anchor print top
4. Bold stripe skirt
5.Simple stripe top
(cool idea to wear over dress and with baseball cap!)
6. Oversize stripe cardigan
7.
Adorable Toggle Duffle coat
8. Color block Mohair scarf
9. Graphic zipper dress
(would be very body flattering)
10. Color block dolman dress
11. Denim button up with cool dip dye look

Tweet