Hi Everyone! I would like to introduce a new blog segment that I hope you'll really enjoy! As we lead up to the holidays, I'll be sharing holiday guides featuring all of my favorite Etsy shops! As you all know, I opened my first Etsy shop in March, and I have really enjoyed being able to make and sell my creations! I've also enjoyed browsing the thousands of other shops on Etsy and finding awesome handmade and vintage treasures. Shopping on Etsy is such a great way to support small, indie businesses and local artists. I have several shops saved as my favorites and I would love to share them so that you can discover them too! First up, I've collected some of my favorite vintage and vintage-inspired gifts.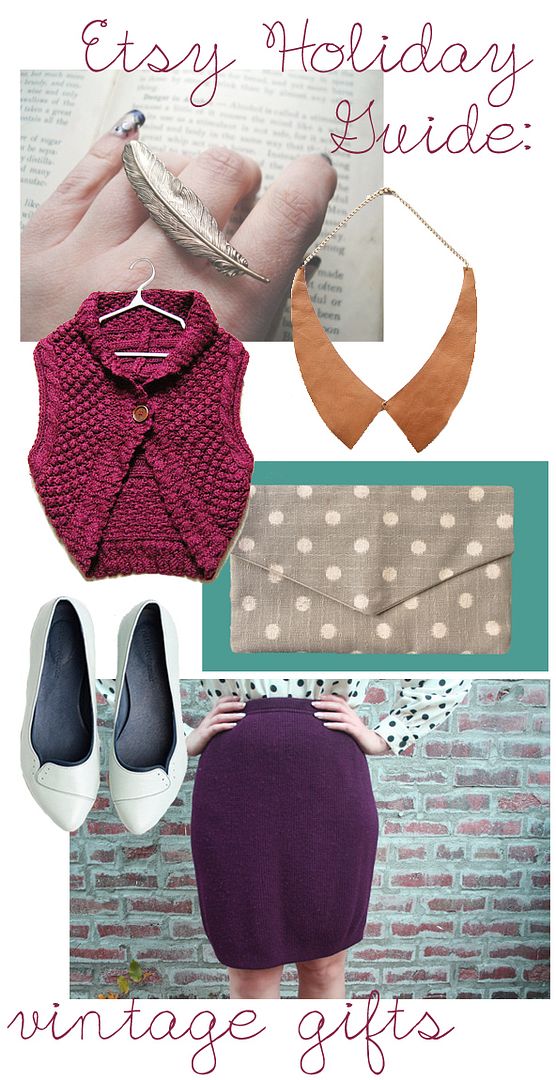 Feather ring: $15
by Irin Skye
Leather Peterpan collar necklace:
$36 by Ampris Loves
Maroon Scalloped Sweater Vest
$22 by Ampris Loves
Polka Dot Clutch
$42 by Presh Studios
Light Blue Vintage flats
$99 by Tamar Shalem
Eggplant Knit Sweater Skirt
$20 by Kansas Couture Vintage
Be sure to click on the links and check out these cute shops and add them to your favorites! And if you're looking for a gift to get me for Christmas, well.....
Tweet