Not only was I able to rub elbows with an NYC designer on Saturday, I was also able to meet Neiman Marcus PR director Rebecca Brodnan Smith. Rebecca had some fantastic style tips, and she shared with us the Neiman Marcus Spring 2013 trend report! Now I'm sharing the list with you! You're Welcome. ;) Keeping this list on hand while you're out shopping is a great way to keep yourself in check when planning your Spring wardrobe. You may already have some of these items in your closet! Let's get started!
Trend #1: Cool Blues. Blue is the color of the year at Neiman's, spanning the spectrum from aqua to navy. Below is Rebecca presenting this model in a fabulous Kay Unger dress in a rich cobalt.
(Also note that amazing Prada bag and color block Manolo Blahniks. I can has pwease?)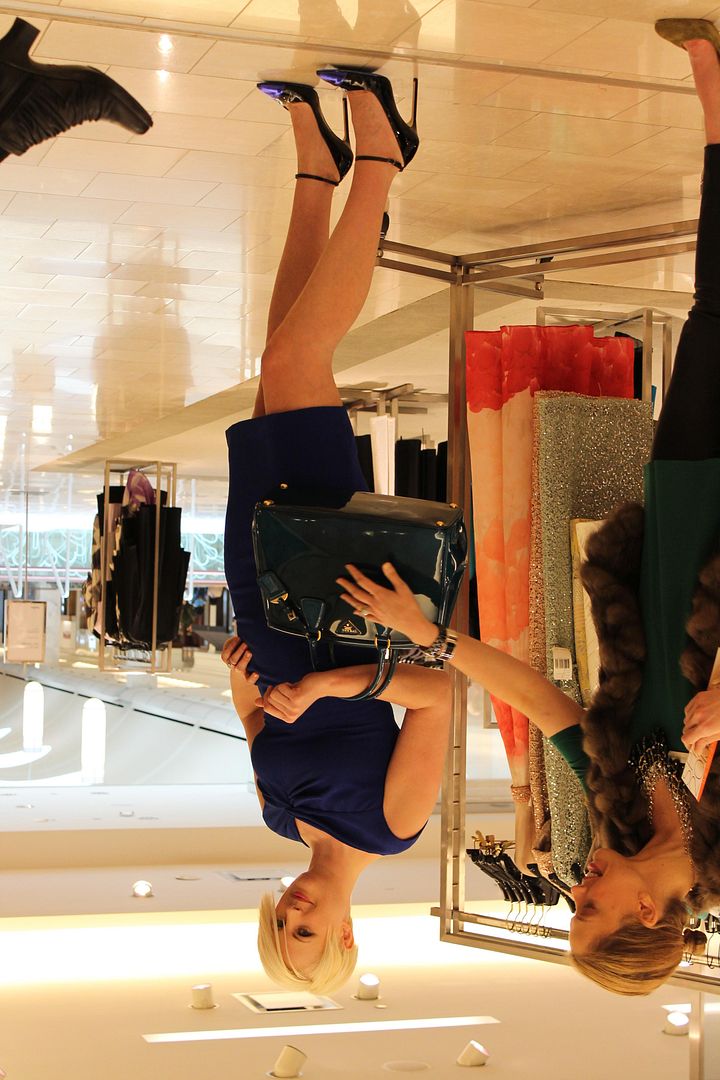 Trend #2: Orange: The New Neutral. The Neiman's experts are encouraging you to wear orange with other colors as you would a neutral like white or black! If this brightness scares you, start out easy with an orange scarf or cardigan like below.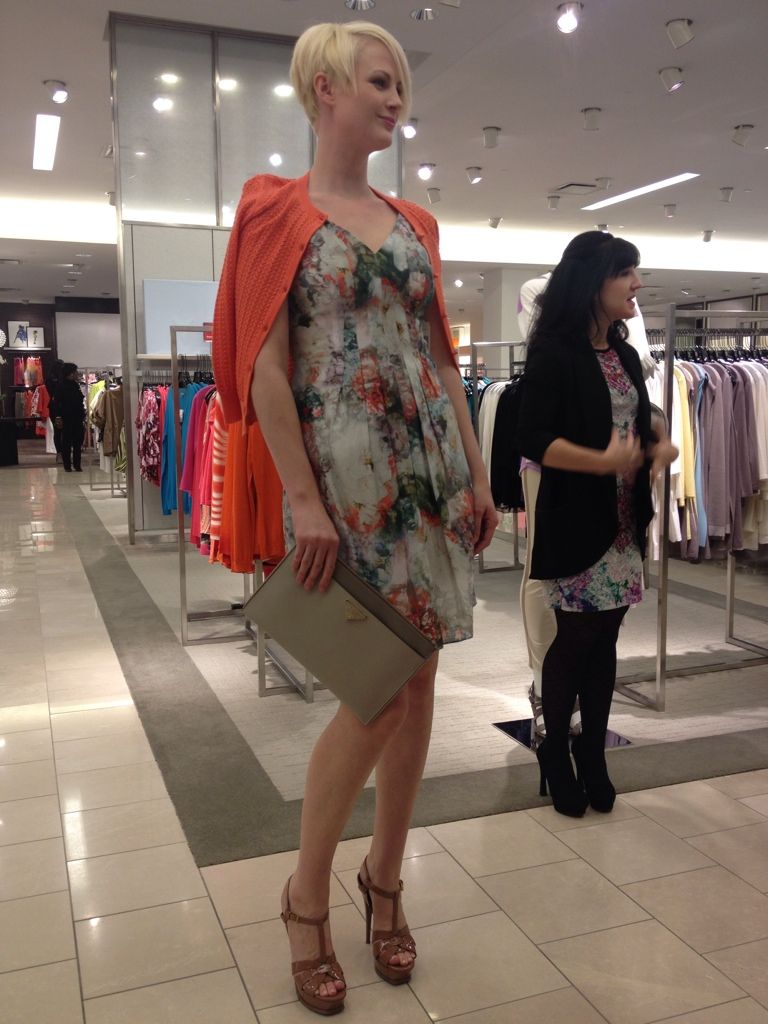 Trend #3: Relaxed chic: clothing that adopts an easygoing attitude. I thought this Pheobe Couture dress really embodies that trend. It could be worn in the daytime with a pair of flats for a laid-back style. (That mint bag is Rebecca Minkoff by the way. Drooling)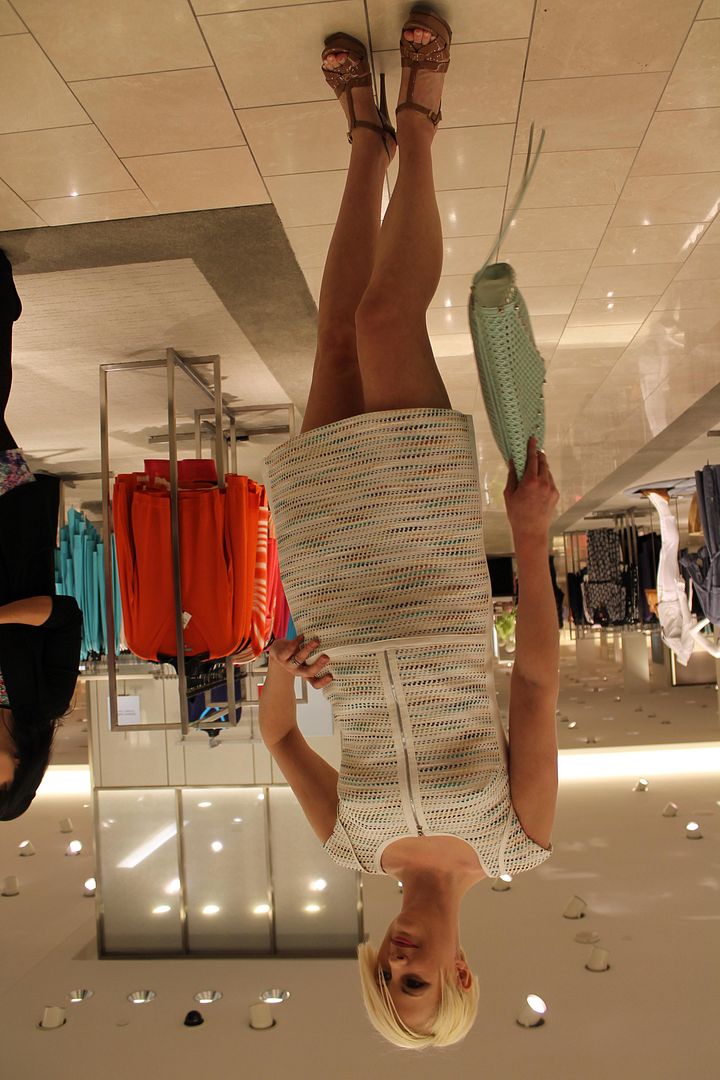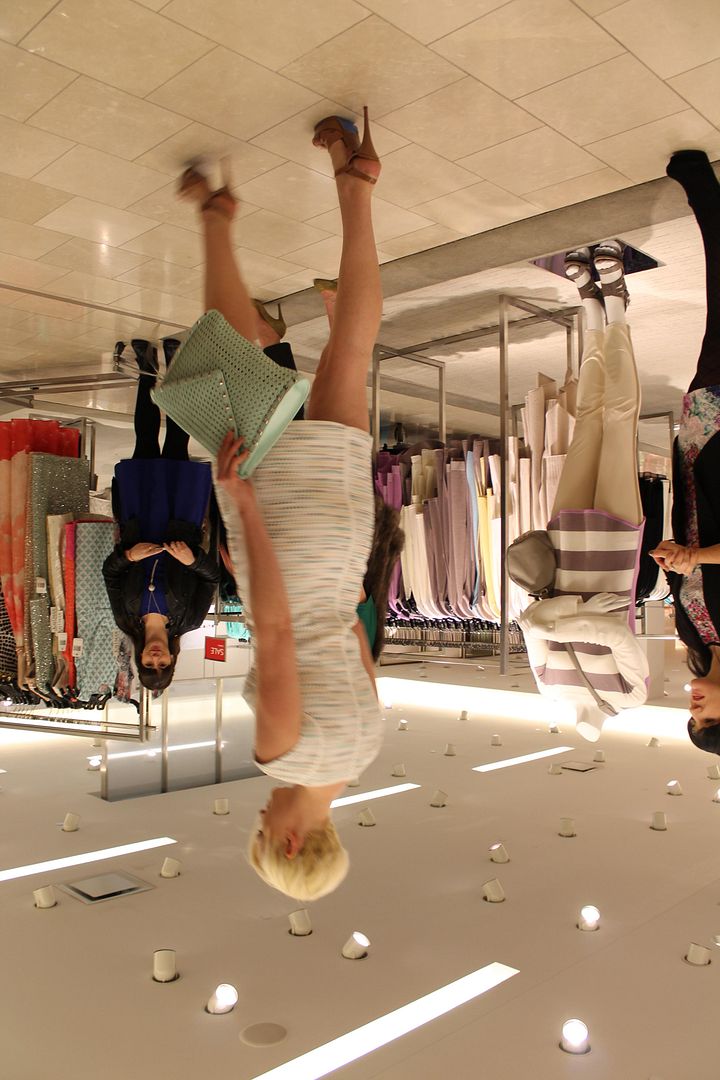 Trend #4: Print Mania. As you might have guessed, I was super pumped about this one! I LOVE prints! This original Kay Unger digital print is amazing! Love how it is worked into the pattern of the dress so that it fades into the neckline and hem.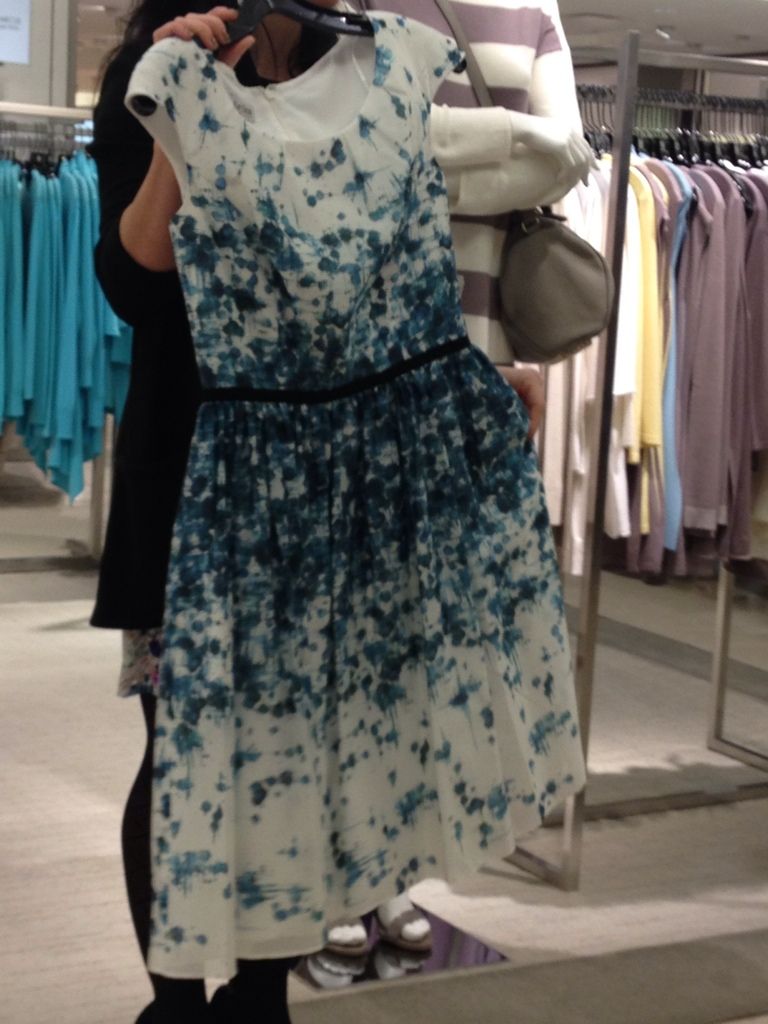 Trend #5: Amazing Lace: Here is another one of my favorite gowns from Kay Unger. This is absolutely stunning, no? This lace trend however, isn't just for evening. It can totally be worked into an office or daytime look with the right kind of garment.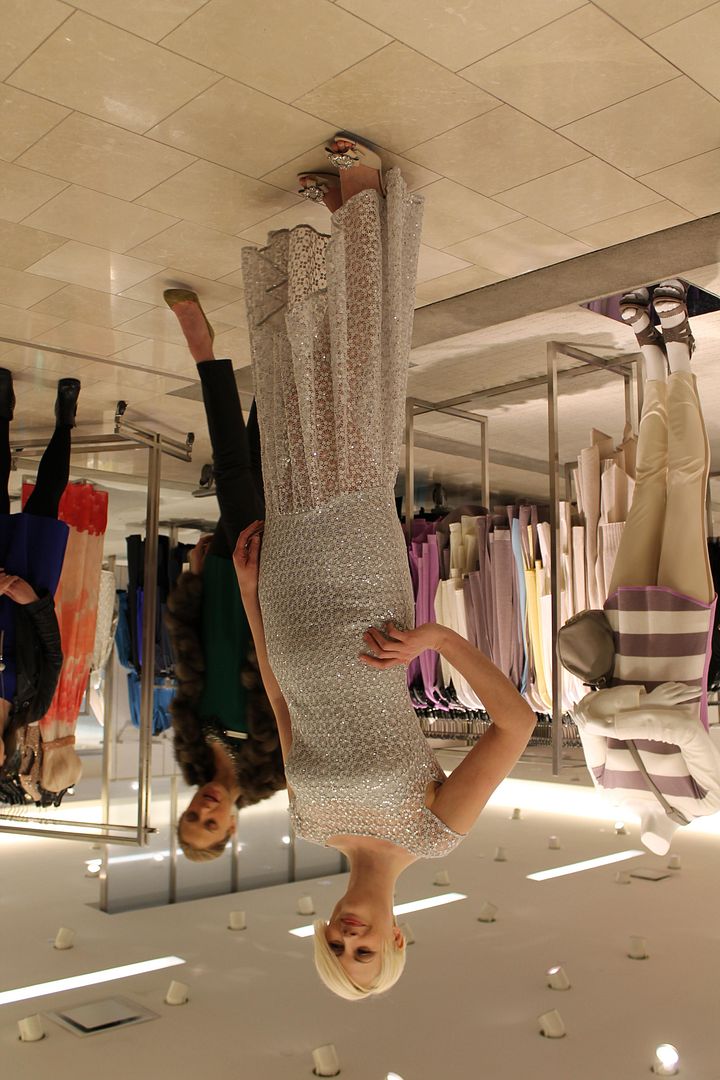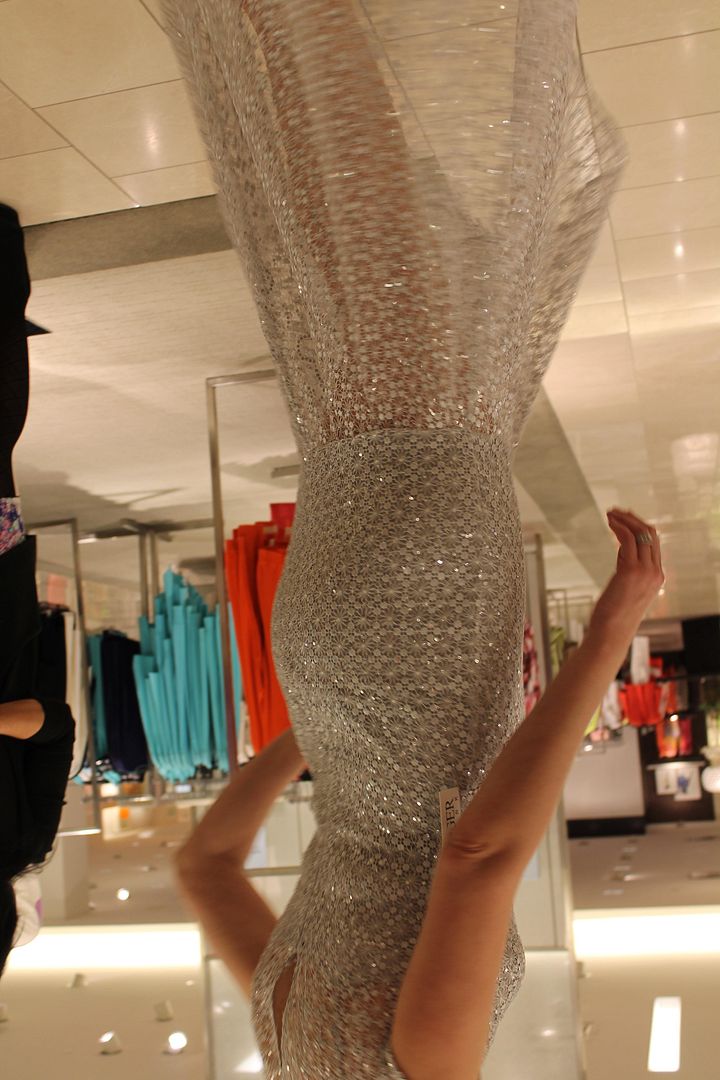 Trend #6: Warm Weather Leather. Normally we think of leather for Fall and Winter right? Well, leather accents are popping up for Spring too! Would you ever think of pairing a leather vest with a feminine sundress? Cute, huh?
Trend #7: High Voltage Handbags: This hot pink YSL clutch really comes alive next to this red dress doesn't it? Rebecca also notes that you shouldn't always look at a clutch for evening. They can be worn in the daytime too! I would highly agree- especially a Presh Clutch! ;)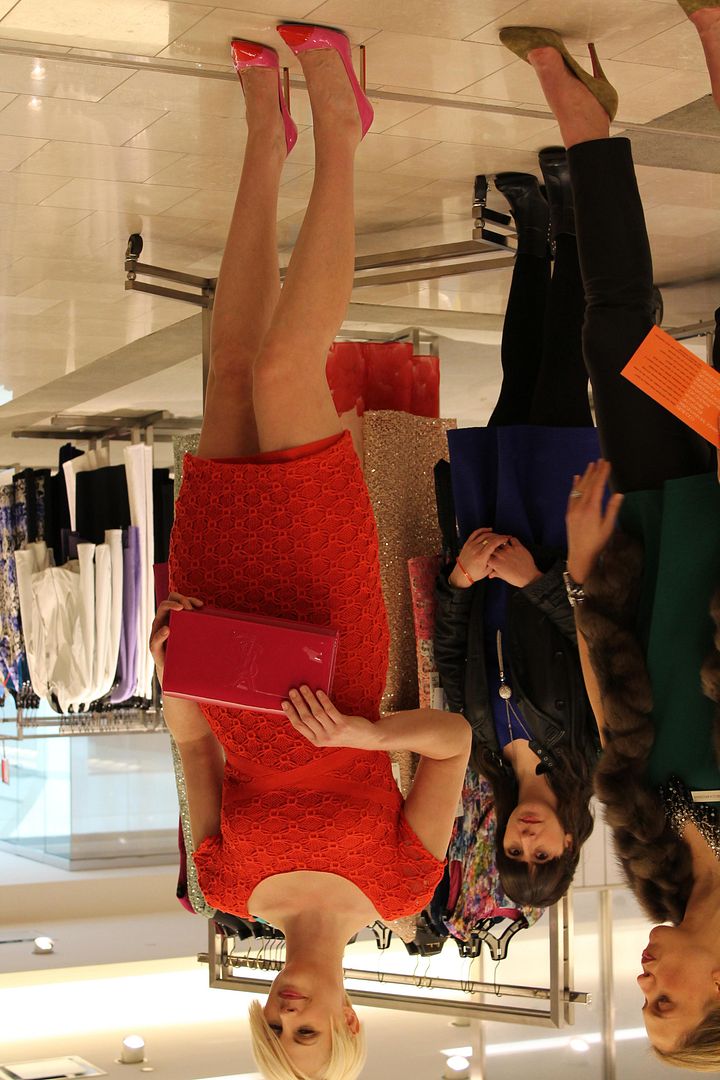 Trend #8: Gladiators: Shoes and Boots get strappy happy. We didn't see any examples of this at the presentation, but here's a cheap find from
Asos.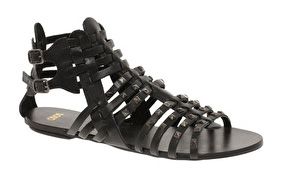 Trend #9: Bold Eyes and Nude Lips: Neiman's experts are telling you to let your eyes do all the talking this Spring. For me, this winter was all about the lip. I like the idea of switching things up for Spring.
Trend #10: Face-Framing Jewelry. Collar length necklaces and bold earrings- they belong together. Here's an over-the-top example from Lanvin:
Does this make you pumped for Spring? I'm so ready. Special thanks to Neiman Marcus for all the tips!
Tweet