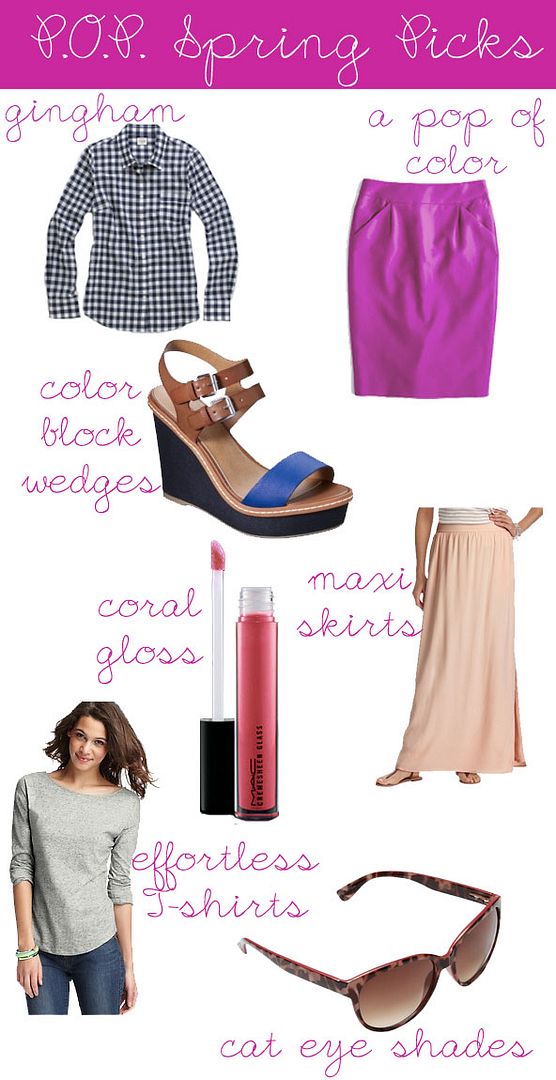 Here's what I'm all about this Spring. I may or may not have already bought all of these pieces one depressing long rainy 34 degree day last week. I say every new season deserves a celebratory wardrobe purchase. What do you think?
1. Gingham: Nothing says spring more to me than a nice button-down gingham top. Not sure why I haven't owned one of these classic pieces before now. This one is from
J.Crew factory: $39.50
.
2. A pop of color: I chose a bold fuchsia as my P.O.P. pop.
J.Crew factory: $54.50
3. Color block wedges: I can never pass up the shoes at Target. Seriously. Every time.
Mossimo: $29.50
4. Maxi skirts: We all know I can't go too long without picking up something from my love: LOFT. I seriously just want to live in maxis all Spring. Maybe it's all the Rachel Zoe I watch?
LOFT: $69.50
(I got mine half price).
5. Coral gloss: I wore this shade all last summer and decided it needed to make a come back.
Mac's Double Dare Cream Sheen. $20.
(note: it looks even better in person)
6. Effortless T-shirts: For some reason this plain heather grey basic T just spoke to me. It said, "Wear me and you'll look comfortable and chic."
Loft: $29.50
7. Cat Eye Shades: You should update your sunglasses at least once a year. It's a rule.
Loft: $24.50
Tweet